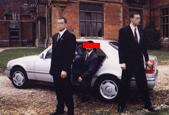 Outsourcing Drivers' and bodyguards' services, escorting and security.
The company Factum takes care about your comfort and safety at the car. You can completely rely on us in choosing the qualified drivers.
Our drivers:
have the high level of qualification;
pass test-drives and study at the high qualified driving schools;
know the roads of Ukraine perfectly;
pass the instruction in the accident prevention.
There are not English speaking drivers in every company. They are at the Factum Company. It is so important while working with your foreign partners! They should feel themselves sure in the unknown country. While ordering, do not forget to mention that you need English speaking driver.
Using this service you will have such advantages:
reduction of the staff of your workers;
medical monitoring (alcohol test) every day;
permanent control of the workers' qualification;
possibility to replace main driver in the case of illness, dismissal etc.
And! We take care about your comfort and safety at the car.
Our bodyguards:
bodyguards with the record of service in the private and civil organizations securing safety of the first people of the political and business elite;
security of clients and their property.
You can rely on us!
Outsourcing Drivers' and bodyguards' services, escorting and security.-2010